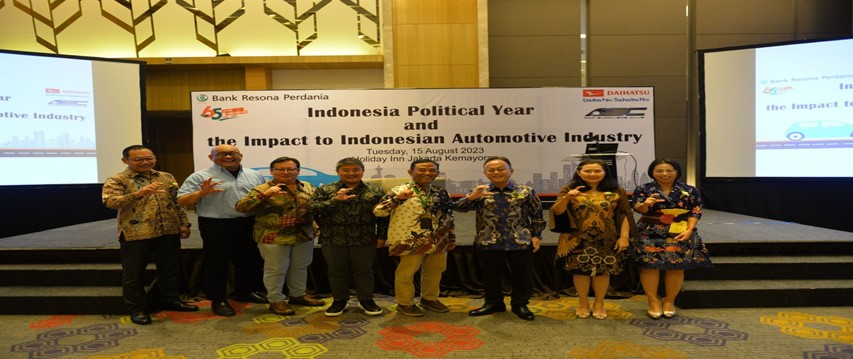 EVENT BANK RESONA PERDANIA DENGAN ASTRA DAIHATSU MOTOR SUPPLIER CLUB
EVENT BANK RESONA PERDANIA DENGAN ASTRA DAIHATSU MOTOR SUPPLIER CLUB
Jakarta, 15 Agustus 2023 - PT Bank Resona Perdania (BRP) bekerjasama dengan Astra Daihatsu Motor-Supplier Club (ASC) mengadakan seminar dengan tema Indonesia Political Year and The Impact to Indonesian Automotive Industry, yang diselenggarakan di Hotel Holiday Inn, Kemayoran, Jakarta.
Penyelenggaraan seminar ini merupakan komitmen BRP dalam mendukung pertumbuhan bisnis para nasabah maupun calon nasabah dengan berbagi informasi terkait dampak tahun politik terhadap ekonomi Indonesia secara umum dan terhadap industri otomotif secara khusus.
Topik seminar sangat sesuai dengan kondisi saat ini dan disambut secara antusias oleh para peserta dari perusahaan-perusahaan industri otomotif yang merupakan supplier Astra Daihatsu Motor (ADM), dengan pembicara Bapak Bachtiar Alam, Ph.D yang merupakan lulusan dari Harvard University, dosen pengajar di Universitas Indonesia serta praktisi di bidang ekonomi dan politik juga sebagai Advisor di salah satu perusahan Jepang di Indonesia.
Dalam acara tersebut BRP juga memperkenalkan TOOLING FINANCING dan mensosialisasikan produk FACTORING yang dapat digunakan sebagai solusi keuangan bagi perusahaan-perusahan dalam menghadapi tantangan bisnis saat ini yang semakin berkembang. Sebagaimana slogan BRP yaitu Sustain Your Business Growth, BRP akan selalu terus berkomitmen untuk mendukung pertumbuhan bisnis nasabah melalui Produk dan Layanan yang disediakan.
Download