Kindly contact us at (021) 570 1445 for information related to the followings:
Inquiry on your account balance and transaction
Information on foreign exchange rate
Inquiry on status of your incoming and outgoing funds transfer
The above phone number is a save direct line, we cannot directing you to this line if the incoming call is come from (021) 570 1958.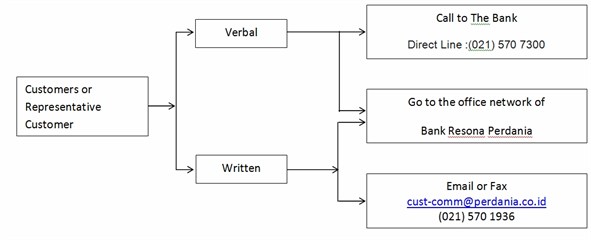 Procedure of Customers Complaint Service and Completion:
By Verbal
Customers complaint by verbal shall be completed in 2 (two) weekdays from the date of received complaint.
If the customer complaint can not be complete by Bank in that time period. So The Bank will ask to customers for submit the complaint by written.


By Written
Customer complaint in writing shall be accompanied with the copy of valid customer identity or valid representative customer identity, namely:
WNI  : KTP/SIM
WNA : Passport/KITAS/KITAP
Power of Attornet if represented
Customer complain in writing shall be completed no later than 20 (twenty) weekdays after the date of receipt of the complaint.
If the submitted Settlement Complaint by Bank does not satisfy the customer
In the complaint settlement regarding with the financial loss are not satisfy the customer, effort to resolve the complaint can be continued by Bank Indonesia Banking Mediation especially for payment system which facilitated by Bank Indonesia and/or Alternative Dispute Resolution Institute (LAPS) contained in LAPS list which stipulated by Financial Service Authority (OJK).